June 20, 2012 Edition
VAM brings unique art influence to Metuchen
New exhibition showcases American artists working in various media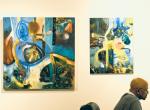 The works of Mario Martinez are included in VAM Art Gallery's recently launched "Continuum 2012" exhibition, which features 10 American artists. PHOTOS BY JEFF GRANIT staff A new exhibit has opened at a new gallery that is making a name for itself in Metuchen.
VAMArt was launched in India in 2007, but officially opened its doors at 15 Station Place, Metuchen, in January. Its first local exhibit, "Resurgence 2012," with works by artists from five nations, closed last month.
"This [was] probably one of the unique shows happening in New Jersey since we are representing successful contemporary artists from various countries," said gallery co-director Mamta Nair, who runs VAM with husband Vinay. She said the exhibit had been extended because it had generated a lot of interest amongst a lot of art lovers.
VAM's second major exhibition, "Continuum 2012," featuring contemporary American art, opened earlier this month and continues through July 21.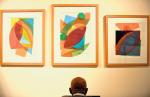 Madeline Tolins-Schlitt's abstract paintings are done with grouche on paper. "Continuum 2012" showcases American artists who work in the same spirit of expressing their thoughts and creativity freely, even while working in different media.
Mamta and Vinay Nair decided to open their first U.S. location in Metuchen for a number of reasons, including its proximity to New York and also because of the high volume of artists in the borough.
"In most of the families, there is at least one artist," Vinay Nair said, adding that Metuchen is a "fantastic town and fantastic community." The Metuchen Area Chamber of Commerce has been very helpful in opening the gallery, he added.
VAMis already integrating itself into the community. The gallery is participating in this month's JunebugArtFest. Plein air paintings done during the festival are on display there, and will be judged at VAM on June 29, the final night of Junebug.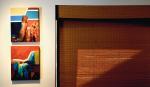 Works by Fina Yeung That high per-capita artist population, he said, will help the business accomplish its primary goals — uniting and promoting all aspects of contemporary art and providing a way for artists and enthusiasts to interact and understand each other. Visual art, he said, is a universal language that transcends geographic barriers.
"We expect to evolve ourselves to be the prime enablers who can positively influence the enlightened fraternity from the community in identifying, recognizing and collecting work of gifted artists who are consistently committed to their work," Vinay Nair said, adding that additional global expansion is on the horizon. "We also aim at building a well-informed and awakened group of art enthusiasts as well as collectors by ensuring that they get the genuine art works that not only have the highest aesthetic value but a long-term investment value, too."
As such, VAM does not disclose any pricing information on its website, he said, noting that he tries to get away from people viewing art as simply a commodity.
Vinay said it's important to have artists on VAM's roster who stand the test of time and are reflective of society's current mores and values. VAM has a team of art professionals who seek talent, he said, and those who approach the gallery to be represented are also held to the same high standard.
Among its current roster of more than 25 artists is Metuchen painter Madeline Tollins-Schlitt, whose work was exhibited at Borough Hall last month. She told the Sentinel that she is excited to be represented at VAM, because of the international opportunities it presents.
VAM's September exhibit will feature new media, Vinay Nair said.
The gallery is open 10 a.m. to 7 p.m. weekdays, and by appointment on weekends. For information on VAM, visit www.vamartinc.com.